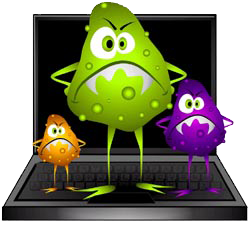 We understand the danger that comes from downloading software online. Much of what you get is not what they advertise or includes viruses and other things you don't want. Below are links to some software that we have found beneficial, safe and free.
Watch out for the toolbars and other add-ons!
Some of the software here and other places include free toolbars, changing your search engine, new web browsers, etc. They are often selected by default, either when you go to download or while you're going through the install process. Watch for it and be sure to remove all the checkmarks saying you agree; you don't want it!
Random hint: if you come to a website that says you have to download a video player or something else to view their website, find another website. Unless it's something like Flash, Java, or Adobe Reader (installer links below), there are no players or viewers needed for legitimate websites that you don't already have. If you do need one of those, use these links and not the ones the website provides, just in case.
One other hint: if a website with software downloads has a specialty installer (e.g. CNET), don't use the installer unless you have to -- look for a direct link to the software you want. That installer will sometimes have a variety of toolbars and other malware.
---
Office/Productivity:
Web Browsers:
We are finding an increase in fake websites, pretending to be the place to download popular web browsers but install malicious software. Use the following links to get to the real website.
Firefox (our recommended browser)
Internet Explorer - you already have it if you have a Windows computer. Use your Windows updates to update the browser. If you have Windows 10, you still have it, but you have to search for it.
Microsoft Edge - this is the new browser for Windows 10, replacing Internet Explorer. It will be updated through regular Windows updates.
Internet Tools:
Multimedia:
CDex: Converts audio CDs to MP3, as well as converting to different audio formats. CAUTION: When installing, select "Custom Install" several times and each time uncheck the other software they want to install. You ONLY want CDex and not all the other "offers" they have available.
Audacity: An excellent audio editor/recorder with many professional features
Paint.NET: Excellent photo program!
GIMP: Full feature image editing program with the ability to import and edit PhotoShop files (PSDs)
IrfanView: Graphics viewer and converter
K-Lite Codecs: Enables you to play all kinds of different video formats
VLC Media Player: DVD player
Music Downloading:
We strongly discourage any illegal music downloading and peer-to-peer file sharing programs. Besides the illegal nature of the practice, the damage to your computer can be extensive. You'll know it's illegal if copyrighted songs can be downloaded for free. Legitimate music can be downloaded for a monthly or per-song fee from numerous online services.